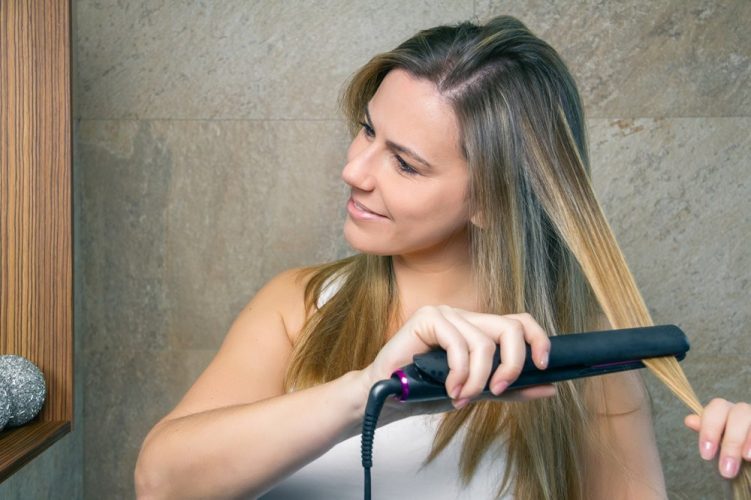 Here comes a hair iron with titanium plates from Salona Professional! It is reportedly better than the usual ceramic ones in the market. It promises less tugs and pulls and provides salon-like hair treatment. It comes with three power adaptors so this is a good deal. It also has a heat-resistant bag and you can buy it for a slashed-off price of $30 (three-third of the original price) with free shipping.
Features
Plates made of coated titanium.
An LCD temperature display.
Comes with automatic shut-off feature.
A wide range of temperature adjustments for your needs from 255 to 400 degree Fahrenheit (124 to 200 degree Celsius).
A nice traveller's buddy with built in 110-220 dual voltage settings.
With three sets of travel adaptors (made especially but not exclusively for Australia, UK, and Europe).
Lightweight (1.4 pounds).
Upsides
Black and sleek, this one-inch hair iron is a great value for money. A lot of customers like the fact that the plates are coated with titanium because it feels and works better than the ceramic plates. It is gentle on coarse hair and smoothly glides through them. Hair do not get caught in between the plates so it gets better and better. It does not fray or damage hair and is safe to use on long, thin hair as well.
When it comes to functionality, it gives instant heat once it is turned on. The LCD display is a plus and it is easy to view and control.
It delivers on most hair types and can treat them well. A lot of online reviews suggest it works best on short hair though. Because it is thin and lightweight, it gets deep from tips to the roots of the hair without burning the spots around ears and nape.
One of its best features is that it is very lightweight and weighs only around 1.4 pounds or a little over half kilogram. Therefore, you can strap this into your baggage without much hassle
Then there are the adaptors which are included in the set. It saves you from the inconvenience of purchasing them separately. Customers far away from the States (India, Middle East, Spain, etc.) have been giving a lot of positive feedback because of this feature.
Downsides
When it comes to design, there is a power cord issue. It is actually thinner than the most so it may not give much protection against any electrical overloading. Therefore, it is advised that you do not overuse or abuse this hair iron. It does have automatic shut-off option which is assuring.
Another problem with the design is the grip. It may be too smooth for some people so there is a possibility that their hands may slip down to the heated plates. Some people also complain about the misleading name of the product.
The hair iron is not made entirely of titanium but rather it is coated with it as it is explained in the features section. Sometimes, we all need to look beyond the brand name to make sure we get the facts straight.
Furthermore, this product may not be good for some hair types. For example, locks that are quite thick and frizzy and very tight curls may not get optimally straightened by this product.
Like any other low or high quality products in the market, this product also has some defects. For instance, transition is quick when the temperature is turned up to 400, but it goes down very slowly when temperature is turned down to 350 or lower.
Another common recurring issue is that the plates do not glide effectively resulting in some pulled or snagged hair during the straightening process.
Durability may not be up to par, depending upon the usage of the product. There was one extreme case when the whole thing broke down just after two attempts. It usually lasts about two weeks or a little longer.
Verdict
You should use this Salona Professional hair straightener as a back-up hair iron, especially for backpacking adventures. With the adaptors included in the set, you have a good value for money. Make sure you do not overuse it. Remember the thin cord!