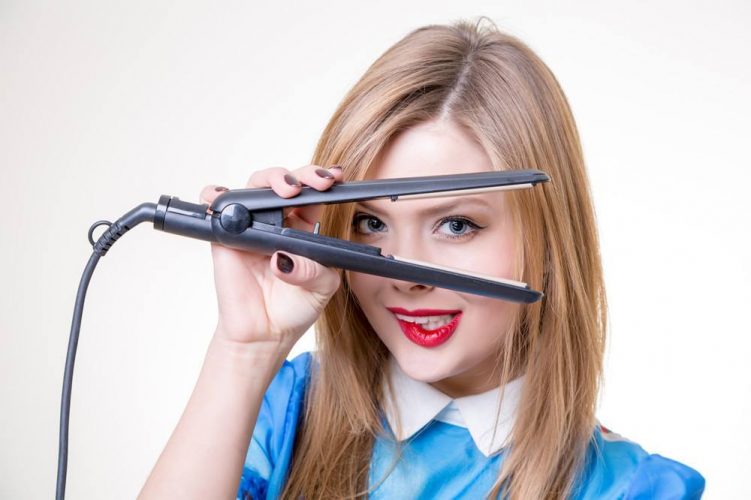 Hair is and always will be our crowning glory. Whether donning a pixie cut like Bella Hadid or having it in waves like Taylor Swift, hair is an important part of our daily armor while going to work or school. So give it a different style. Luxuriate it with beautiful smooth natural shine with hair irons that are best in quality but are not going to break the bank.
It is understandable that great hair straighteners can be super hard to find with the market brimming with new models with different features. You have to consider many factors such as the length of the plates (one inch or one and a half inches), the kind of the plates (ceramic, tourmaline, or titanium), and of course, your budget.
The good news is that you can find the best deals and we are here to help you choose. Whether you want a hair iron with an entire set to help you launch into your own simple hair fixes at home or the one that you can grab for traveling, we have it all here. It is all yours to pick and choose. They can give you the most luxurious salon treatment.
How to Choose the Best Hair Flat Irons
Before you look over the product reviews, start with the basics. Begin with knowing all about your hair and your cash in hand so you can narrow your search and be advised on which flat iron to choose.
Hair Length and Characteristic
Believe it or not, it is as important as checking the quality of the flat iron. The reason lies in the fact that different hair types have different needs. For instance, you cannot use titanium plates if you have very delicate hair unless you want them to get burnt.
Furthermore, the length and thickness of your hair determine how wide the hair iron plates should be. For example, in the case of thin hair, you should buy ones that are ideally half an inch in width. So, which hair type are you?
Budget
While a lot of users go for expensive brands like CHI and Babyliss, you can opt to look for other brands that work as well or even better such as Remington, Infiniti Pro, HSI, or Salona. You need to ask yourself how much money you are willing to spend on a single purchase.
Also, consider how often you want to use the product. Are you using a hair iron every day or only once a month? Are you using them while traveling? Or are you looking for a backup for the one you already have?
What to Look for in a Good Hair Flat Iron
Because hair is prone to get damaged by getting relaxed or straightened, colored, and permed, you need to pick the hair iron in the market that's not going to further damage your tresses. How and where should you start? Check out the following tips that will definitely be a great help:
Best value
Look for irons that have standard features packed into one beautiful device. They should have at least four or five of the following features: quick and sustained heating, adjustable temperature settings, the durability of at least one year, automatic shut-off feature, quality plates, adaptable voltage, reasonable weight, and ability to reduce pulling or tugging the hair.
Reviews & Recommendations
You can check the last feature by asking friends about the hair irons they use and what they recommend. You can also refer to the product reviews we have included on this page.
Warranty and Return Policies
Most of the products have at least one year warranty and a one-month return policy. You may want to check this before making a purchase to make sure what you can do if you find yourself a defective product.
The Best Deals for Flat Irons
Here are some of the good buys you might want to check out. They are big on quality and less on money and they're definitely for both beginners and pros!
Http iframes are not shown in https pages in many major browsers. Please read
this post
for details.
This product comes not only with a Flat Iron, but also gloves, pouch, and a leave-in hair after-treatment for that quick fix at home. Not only that, but this is also pretty light at around 1.5 pounds. It's only 50 dollars!
Features:
It comes with floating plates that adapt to your hair.
These are pure ceramic tourmaline plates with improved heat technology.
Temperature range of 240 to 410 degrees Fahrenheit (116 to 210 degrees Celsius).
Set includes Argan Oil Leave-in Hair conditioner in a small container (5ml) and travel pouch.
A universal voltage of 110 to 220 volts.
You can use it to get flips and curls.
You can save up to 70% of the original product price.
Upsides:
This one comes with a high-heat capacity feature, enough for quick curling, flipping, and straightening without the damage or burnt plastic smell. Hair curls last up to two days and straights for one day. Reviews vary but there have been a lot of satisfied customers who say that this iron works well even on kinky and thick hair.
Other accessories are a seven-foot-long power cord with a pre-installed circuit breaker and a swivel power cord for a non-twisting experience. It also comes with Argan oil which acts as a conditioner to enhance the natural beauty of your locks after the whole process is done.
Most of the customers are happy with the non-snagging or pulling treatment.
When it comes to durability, the flat iron gives good results even after one and a half years of weekly use.
You have the option to use a coupon for the product to be delivered gift-wrapped and it has a two-day shipping option with conditions as well.
Downsides:
There have been complaints related to the design. The iron sides are reported to be not as flat as they should be so the iron tugs the hair. The grip is also criticized for not being comfortable for the hands even for a short time.
Since there is no automatic shut-off timer for this iron, always make sure to take out the plug after every use.
Lastly, there should have been an option for shipment in selected countries, but currently, the product can only be delivered within the US territory.
Verdict:
It is a pretty good and affordable set for a flat iron. It does what it promises. If you are not willing to bust your piggy bank for a professional hair iron, this is for you
Small and light, this hair iron is ready for glamorous straightening and defrizzing.
Features:
One inch long ceramic plates designed with the anti-static feature.
Maximum of 410 degrees Fahrenheit temperature control. High heat like a professional salon.
A pair of plates which float.
A maximum of thirty-second heat-up, with automatic shut-off.
Long swivel cord.
Warranty for two years.
Locking mechanism around the area of the hinge for safety.
Upsides:
With its stylish purple finish, this hair iron really works best for those who are new to hair treatment products. Most customers like how petite and lightweight it is. It has a long swiveling cord and a charming locking mechanism in the hinges. It mostly delivers what it says.
Most people like the fact that heating is quick and really hot. Some people even mention that the iron works as well as or, in some cases, even better than the standard CHI hair iron products.
The warranty itself is good for two years. You can have this shipped to selected places outside of the U.S. with additional costs for shipping if your purchase is only for the hair iron.
You have the option to get it gift-wrapped and it is a good deal for around $20 considering it is 70% cheaper than the usual good quality hair iron products in the market.
Downsides:
A lot of problems are the features itself. Many customers seem to have problems with the automatic shut-off safety feature. It shuts off even when the iron is still in use. Other customers do not care about this problem. Some people have a problem with its hotness.
Other concerns are related to the design. First of all, the bottom is round and the whole iron does not sit well when set on a surface. It falls sideways and burns anything it touches.
Next, many people pointed that the floating ceramic plates are not aligned properly so the heating gets affected and that one has to squeeze the handle with pressure for both plates to meet and for hair to be completely ironed out.
Because of this defect, the product may not be able to iron all the hair placed between the plates and can cause pinching and pulling of hair.
Verdict:
If you are looking for a portable hair iron and you don't mind the heat, you may want to grab this off the shelf. By paying a reasonable price of around $20, you can be sure your locks will be straightened or curled but with some pulling. Just wear a pair of cotton gloves to protect your hands and enjoy.
It comes with three power adaptors so this is a good deal. It also has a heat-resistant bag and you can buy it for a slashed-off price of $30 (three-third of the original price) with free shipping. Conditions apply.
Features:
Plates made of coated titanium.
An LCD temperature display.
Comes with automatic shut-off feature.
A wide range of temperature adjustments for your needs from 255 to 400 degree Fahrenheit (124 to 200 degree Celsius).
A nice traveler's buddy with built in 110-220 dual voltage settings.
With three sets of travel adaptors (made especially but not exclusively for Australia, UK, and Europe).
Lightweight (1.4 pounds).
Upsides:
A lot of customers like the fact that the plates are coated with titanium because they feel and work better than the ceramic plates. It is gentle on coarse hair and smoothly glides through them. Hair does not get caught in between the plates so it gets better and better.
It does not fray or damage your hair and is safe to use on long, thin hair as well. When it comes to functionality, it gives instant heat once it is turned on. It delivers on most hair types and can treat them well.
One of its best features is that it is very lightweight and weighs only around 1.4 pounds or a little over half a kilogram. Therefore, you can strap this into your baggage without much hassle.
Downsides:
When it comes to design, there is a power cord issue. It is actually thinner than most so it may not give much protection against any electrical overloading. Therefore, it is advised that you do not overuse or abuse this hair iron. It does have an automatic shut-off option which is assuring.
Furthermore, this product may not be good for some hair types. For example, locks that are quite thick and frizzy with very tight curls may not get optimally straightened by this product.
Durability may not be up to par, depending upon the usage of the product. There was one extreme case when the whole thing broke down just after two attempts. It usually lasts about two weeks or a little longer
Verdict:
You should use this as a backup hair iron, especially for backpacking adventures. With the adaptors included in the set, you have a good value for money. Make sure you do not overuse it. Remember the thin cord!
This is not on the top of the list for hair-straightening irons for nothing. Almost all 2,000 reviews have outstanding customer feedback and for a reason. It's versatile enough and wide enough to cover all types of hair. It has many controls for temperature and adaptable options for cross-country use.
Features:
Best for fine to coarse hair for straightening, flipping, and curling.
Tourmaline crystal ion plates with one-inch ceramic material.
Microsensors that help to prevent damaging your hair.
Swivel cord that allows 360-degree turning.
Bonus Argan Oil leave-in Hair Treatment, gloves and travel pouch.
Temperature range 240 to 400 degrees Fahrenheit (120 to 200 Celsius).
Plate width of one inch (especially for bangs and curly hair types).
With a universal dual voltage capabilities 110 to 220 volts.
Upsides:
This is a user-friendly iron and a lot of the customers report that it glides easily and quickly on hair without the usual snags, unnecessary repeats, and burnt hair. The iron heats up quickly and remains hot for a long time so you don't have to reheat it before doing another batch of hair. Even thick hair turns soft in a little under thirty minutes.
If you have a problem with too straight and too delicate hair, you can use this product for curling and flipping. You can do all this without the smell of burnt hair. This iron is durable and works as efficiently as new even after being used thrice a week for one and a half years.
The plate width is more than enough to efficiently iron out fringes, bangs, and large portions of hair without getting caught in and painfully pulled out. The potential for using this anywhere abroad is great as the appliance allows you to put the plug into any outlet anywhere without needing to check for voltage requirements.
A lot of customers were asked to compare this brand with another more expensive brand called CHI and they remark that the HSI works better and is definitely more affordable.
If you have any problems with the product, there is a one-month return policy and a one-year warranty. Conditions apply for possible reimbursement, though.
Downsides:
One common complaint is that the hair treated with this iron does not stay straight after one day. Some people seem to be bothered about it, while others are okay with this. You may also want to consider reading the product manual first which can be found online.
Although replacements are free, there are certain conditions in which you have to pay extra for the shipping and repairs. Total refunds are also not possible.
Verdict:
If you want an affordable hair iron that gives you immediate, but not long-lasting, effects and works fine on all hair types without the burning hair smell and frizziness, get this iron for yourself.
It has the highest heat setting in the ceramic variety, and numerous heat settings perfect for any hair salon situation. It is also backed by third-party testing. You can confidently get beautiful hair with style at your fingertips.
Features:
Tourmaline Ceramic material for anti-frizz and anti-static styling.
The product boasts of being 89% straighter with less frizz based on an independent experiment conducted by a third party.
High heat setting of 455 degrees Fahrenheit with fifteen seconds warm up.
30 different heat set-ups for different styles.
A small bottle of Argan Oil Leave-in Treatment as a little something extra.
Comes with four different plate widths (three-fourth, one and one-fourth, one and three-fourths, one-inch types).
Floating plates.
Automatic shut-off feature.
Auto recovery of heat settings when iron is accidentally unplugged or after a power outage.
5 pounds overall weight (less than 4 kilograms).
Five year warranty.
Upsides:
This Infiniti Pro model is one of the top of the lines in the company. Made with tourmaline ceramic innovations, it is designed to provide the least damage to the hair. It provides anti-frizz and anti-static results and gives the magnificent salon-hair effect. The heating process is fast and efficient.
It delivers what it promises such as no hair snags and no damage or pull. Instead, it glides through the hair smoothly. Generally, the iron stays hot during the whole process of straightening. It works on all types of hair: thin or thick, short or long, curly or wavy, natural or colored etc. The ironed hair may last for as long as four days.
When it comes to durability, it can work efficiently from 6 months to 4+ years depending on the use. Besides, there is a five-year warranty which may interest you.
It is definitely a great value for your money. It has been compared to other products such as CHI and Remington, and most of the customers have kept their loyalties to Infiniti Pro.
Downsides:
The product does not indicate the actual temperature. It is mentioned that the highest temperature is 455 degrees Fahrenheit but is has been programmed for 30 different temperature settings. So the best thing you can do is read the manual first to confirm which dial has the highest temperature.
One customer reported temperature setting fluctuating at some point which may be due to the automatic controls that are programmed to adapt to the hair conditions. But this can be remedied with manual adjustment on the controls, so it's not a big deal.
Verdict:
It's a great buy; tried and tested for professional use at half the price. Try it to believe it!