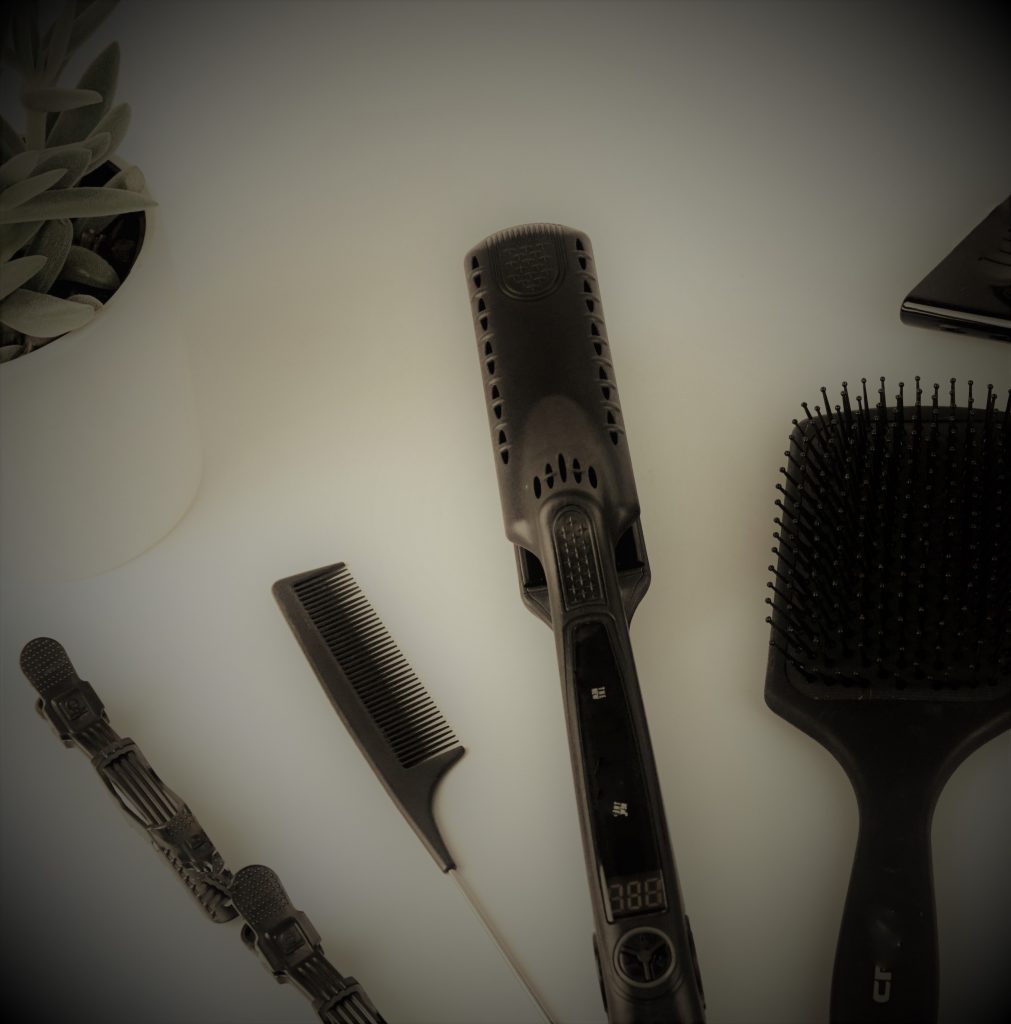 The flat iron is an essential part of a girl's personal glam team. You may not be able to afford professional salon styled hair every day as famous celebrities do, but you can certainly glam up your everyday hairdo with simple tools such as a flat iron. If you think that a flat iron is just useful for straightening out your curly and wavy hair, then you are mistaken. There is so much more than you can do with your flat iron than just to straighten up your locks. To start with, here are 5 tricks to try with your flat iron.
Create Gorgeous Beach Waves or Cute Bouncy Curls
We all know that a flat iron's main purpose is to straighten the hair, whether it is a little wavy, way too curly or already straight. But did you know that you can also use it to curl up your hair? You don't have to buy different sized curling irons to create curls of various sizes because all you need is one flat iron to do the job. From gorgeous beach waves to cute little bouncy curls, you can achieve lots of hairstyles from just one tool.
Get the attention of that surfer dude or any man you have been crushing on by flaunting your beach wave hair. To do this, you first need to dry your hair then section it to make it easier for you to create waves. Heat up your iron at medium heat, grab a section of your hair and clamp it down with your flat iron. Make sure that your clamped section is about 2-3 inches away from the roots so that your hair doesn't look too poofy. Now twist your flat iron 180O inwards and make sure that you hold the tips away from your head. Move a few inches downwards then twist to outwards to the other direction. Alternate the twist as you move downwards towards the tips of your hair. Make sure you move quickly to produce gorgeous waves in your hair instead of hideous dents. Repeat these steps to the rest of your hair. Finally, give your hair a little shake from the roots and admire the gorgeous locks you have just created.
You can also use the flat iron to set your cute and bouncy curls. To do this, you need a little help from tin foil, the ones you usually use in the kitchen. First of all, you need to section your hair then start by grabbing a section and curling it around two of your fingers. You can also wrap it around three of your fingers for bigger curls. Wrap up the curl you just made with the tinfoil and do this to the rest of the sections. Then, use the flat iron to apply heat to your foil-wrapped hair. This sets the bouncy curl on your hair. After a few minutes, unravel each foil carefully and style as desired.
Volume Up Flat and Dull Hair
If adding curls to your hair isn't your style and if you prefer to have straight hair, your flat iron will be very useful at that. The only problem is, sometimes, a straightened hair looks flat and dull. Who would want that? Luckily, your flat iron can also help bring more life into your flat and dull straight hair by adding volume to it. To do this, use the flat iron in an upwards motion for several inches at the top sections of your hair. This doesn't only add more volume to the crown of your head, but it also tames down those stubborn cowlicks. For even more flair, you can also use the flat iron to make sure that your straight hair curls inward at the tip. This produces sleek, voluminous straight hair without the stubborn fly away tips.
Prolong Vivid Chalk Colored Hair
Make your day a little brighter by adding a pop of gorgeous color to your hair. If you are not brave enough to get it permanently colored in hot pink or even deep teal, then you can try it temporarily by making use of chalk. If you have used chalk before then you know that it can look amazing right after you apply it then fade until nothing is left in just a few hours. The trick to make your temporarily chalk colored hair is to use your flat iron after applying it. The heat helps seal in the color to make it last longer than usual. The result would be a more vivid color on a perfectly smooth hair. Just take note that this doesn't make the chalk water-proof, so if it gets wet, you can still expect the chalk to bleed and the color to disappear.
Join The Crimp Trend
Another trick you can do with your flat iron is to create foxy crimps on your hair. Do you remember how your hair looks like after you just unravel it from being braided all day long? Those bends that form on your hair are called crimps and you don't have to wait all day long to get them. There is an easy trick to that and that is through the use of your flat iron. The first thing you need to do is to braid your hair into sections and the more sections, the smaller the crimps would be. Then clamp your flat iron on your braided hair to set the crimp. After using the flat iron on all of your braids and letting your hair cool down a bit before you unravel the braids. In this way, you'll have perfectly crimped hair in just minutes.
De-wrinkle Your Clothing
Flat Iron for your hair is an iron that you can also use for your clothing. This last trick is very useful in making sure your collar is pristine and wrinkle-free. Aside from the collar of your shirt, you can also use the iron on your sleeves, the hem of your dress or shirt as well as in odd wrinkles you find in your clothing. You can even adjust the heat and set it to low so that you can use it on delicate fabrics.
Cleaning and Maintenance
As you can see, there are a lot of things that you can do with your flat iron. And as with other tools that you use, your flat iron also needs some love and care from you. You need to make sure that you keep it clean by simply making use of some rubbing alcohol and a piece of cloth. This helps prevent unwanted products to burn and stick to your hair. For safety reasons, you also need to make sure that you switch it off or plug it out when you are done using it. This doesn't only help you save on electricity but it also prevents your iron from overheating.