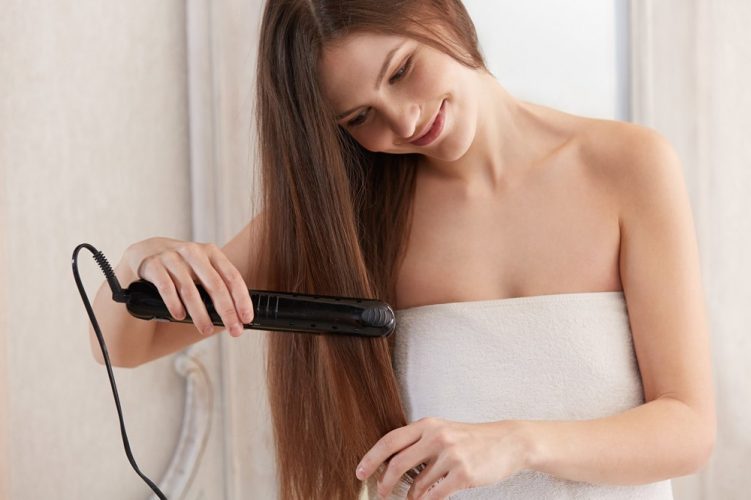 Small and light, this hair iron is ready for glamorous straightening and de-frizzing. Just under fifteen seconds you can start ironing out your hair. This works great with thick and extremely curly hair. To top it off, it has an automatic shut-off feature so you can leave it on anywhere with a confidence that nothing will get burned.
Features
One inch long ceramic plates designed with anti-static feature.
Maximum of 410 degree Fahrenheit temperature control. High heat like a professional salon.
A pair of plates which float.
A maximum of thirty second heat-up, with automatic shut-off
Long swivel cord.
Warranty for two years.
Locking mechanism around the area of the hinge for safety.
Upsides
With its stylish purple finish, the Remington S5500 hair iron really works best for those who are new to hair treatment products. Because it is sturdy and pretty light (the estimated weight of this is a little over 10 ounces), you can put it into a bag and you are good to go. Most customers like how petite and lightweight it is. It has a long swivelling cord and a charming locking mechanism in the hinges.
When it comes to durability, this product lasts from one to two years depending upon the usage. There is some problem with burnt plastic smell, but it usually disappears after one year of use and does not affect the heating function.
It mostly delivers what it says. Most people like the fact that heating is quick and really hot. It finishes the hair in around ten to fifteen minutes which is not bad because it is just like getting it done in a salon.
Some people even mention that the iron works as well as or, in some cases, even better than the standard CHI hair iron products. The warranty itself is good for two years.
You can have this shipped to selected places outside of the U.S. with additional costs for shipping if your purchase is only for the hair iron. You have the option to get it gift-wrapped and it is a good deal for around $20 considering it is 70% cheaper than the usual good quality hair iron products in the market.
Downsides
A lot of problems are of the features itself. Many customers seem to have problems with the automatic shut-off safety feature. It shuts off even when the iron is still in use. Other customers do not care about this problem. However, if you find the constant shutting off a nuisance, consider this before buying.
Other people have a problem with its hotness and complain that the iron actually burnt their hair and caused some lasting damage to their locks even when it was set to around 340 degree Fahrenheit. So beware.
Other concerns are related to the design. First of all, the bottom is round and the whole iron does not sit well when set on a surface. It falls sideways and burns anything it touches.
Next, many people pointed that the floating ceramic plates are not aligned properly so the heating gets affected and that one has to squeeze the handle with pressure for both plates to meet and for hair to be completely ironed out.
Because of this defect, the product may not be able to iron all the hair placed between the plates and can cause pinching and pulling of the hair.
Other issues are more or less related to the type of hair and the way people use the tool. Some customers report that the iron does not treat frizz as it should and does not curl as promised. Probably because of the high heat or improper use, sometimes it leaves a mark where the plates touch the hair during initial stages of the straightening process.
Another defect is that the product reverts to 370 degrees Fahrenheit which is not desired by the user. Some customers cite that the claims about floating plates are misleading. One customer remarked that only one of the two plates actually floats.
Finally, when it comes to voltage, the older versions actually fulfil the universal voltage requirements of 120 to 240 volts but the newer versions are limited to the standard voltage requirements of the States. Therefore, you can safely use it anywhere in the States but not outside the States.
Verdict
If you are looking for a portable hair iron and you don't mind the heat, you may want to grab the Remington S5500. By paying a reasonable price of around $20, you can be sure your locks will be straightened or curled but with some pulling. Just wear a pair of cotton gloves to protect your hands and enjoy.