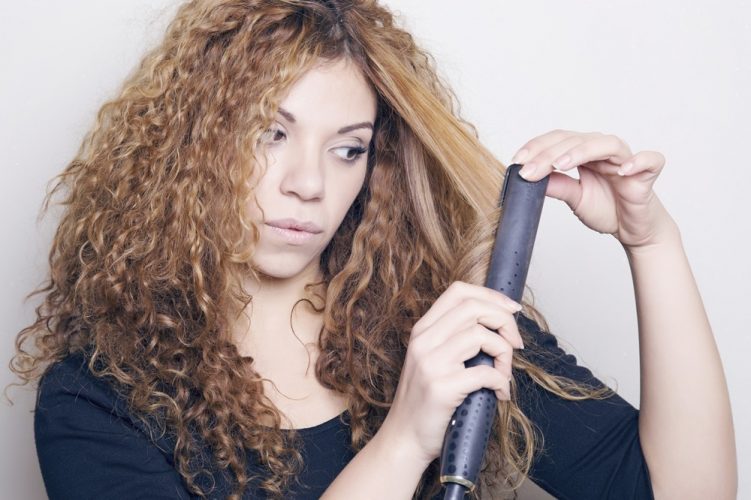 This hair iron is a handy-dandy piece of a flat iron with a dual voltage that's great for cross-country travel. But that's not all. The product also comes with a silk travel pouch and Argan oil to polish your hair after straightening. You can get all that for just 50 dollars!
Features
Comes with floating plates that adapt to your hair.
These are pure ceramic tourmaline plates with improved heat technology.
Temperature range of 240 to 410 degree Fahrenheit (116 to 210 degree Celsius).
Set includes Argan Oil Leave-in Hair conditioner in a small container (5ml) and a travel pouch.
Universal voltage of 110 to 220 volts.
You can use it to get flips and curls.
You can save up to 70% of the original product price.
Upsides
This black, one-inch wide plated hair-iron gives you immediate curling and flipping, thanks to its high-heat capacity feature. You can also use it for straightening without damage and burnt plastic smell. Hair curls last up to two days and straights for one day. Frizzy hair can be treated but not frizzy ends. Overall, you get good results and the hair looks professionally treated.
To expound more, the tourmaline plates apply heat evenly throughout the entire process without turning the hair dry. The rounded edges of the ceramic also help in its intended use. It helps you flip, curl or straighten hair just like the way it's done in salons.
Reviews vary but there have been a lot of satisfied customers who found that this iron works well even with kinky and thick hair.
Other accessories are a seven-foot-long power cord with a pre-installed circuit breaker and swivel power cord for a non-twisting experience. It also comes with Argan oil which acts as a conditioner to enhance the natural beauty of your locks after the whole process is done.
Most of the customers are happy with the non-snagging or pulling treatment. But there are reports that suggest otherwise. This may be due to improper use or lack of skill and not the product itself.
You can order this in three varieties: plain, titanium, and 3rdGen. 3rdGen includes boost up features for quick heating and you can get it at the same price.
It is suggested that you do not heat it up too much because your hands may get burned. You may be able to counter this with a pair of heat-resistant gloves.
When it comes to durability, the flat iron gives good results even after one and a half years of weekly use.
You have the option to use a coupon for the product to be delivered gift-wrapped and it has a two-day shipping option with conditions as well.
Downsides
Overall, out of the 20,000 reviews, only 3,000 actually reported negatively.
There have been complaints related to the design. The iron sides are reported to be not as flat as they should be so the iron tugs the hair. The grip is also criticized for not being comfortable for the hands even for a short time. Since there is no automatic shut-off timer in this iron, always make sure to take out the plug after every use.
Then there are defects. Reports say that the iron does not heat up enough even when the temperature is set to the maximum. Some of the customers complained about the ironworking well only for a short time. Since the type of hair was not mentioned in this incident, it may be difficult to ascertain that the product is defective. Additionally, the dual voltage feature is reported to not work abroad but was apparently fine in the States.
It might be related to improper use but there have been complaints that it does not work on thick, coarse, frizzy, wavy and colored hair. There was someone who mentioned that the iron is only good for re-polishing already straight hair. But again this might be an improper use problem.
Lastly, there should have been an option for shipment in selected countries, but currently, the product can only be delivered within the US territory.
Verdict
The HSI Professional Flat Iron is a pretty good and affordable set for a flat iron. It does what it promises. If you are not willing to bust your piggy bank for a professional hair iron, this is for you.