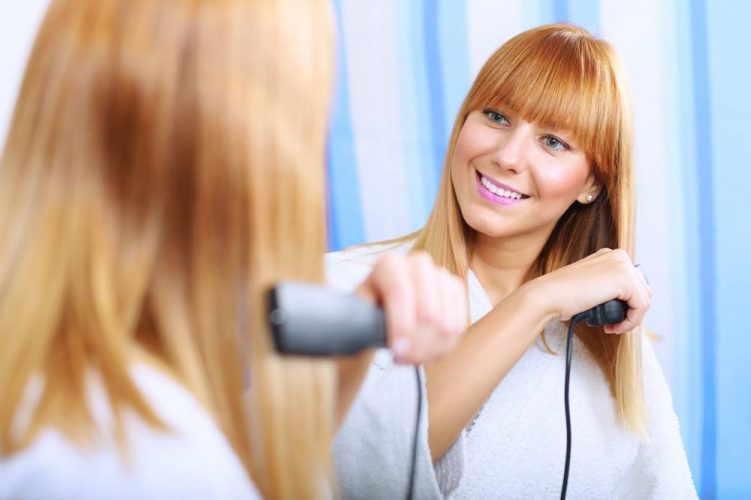 This Pro hair iron is bulkier than most hair irons in the market but don't let that fool you. The features more than compensate for the additional effort. It has highest heat setting in the ceramic variety and numerous heat settings perfect for any hair salon situations. It is also backed up by a third-party testing. You can confidently get beautiful hair with style on your fingertips.
Features
Tourmaline Ceramic material for anti-frizz and anti-static styling.
The product boasts of being 89% straighter and less frizz based on independent experiment conducted by a third party.
High heat setting of 455 degree Fahrenheit with fifteen second warm up.
30 different heat set-ups for different styles.
A small bottle of Argan Oil Leave-in Treatment as a little something extra.
Comes with four different plate-widths (three-fourth, one and one-fourth, one and three-fourths, one inch types).
Floating plates.
Automatic shut-off feature.
Auto recovery of heat settings when product is accidentally unplugged or after a power outage.
5 pounds overall weight (less than 4 kilograms).
Five year warranty.
Upsides
This Infiniti Pro model is one of the top of the lines in the company. Made with tourmaline ceramic innovations, it is designed to provide the least damage to the hair. It provides anti-frizz and anti-static results and gives the magnificent salon-hair effect. This purple wonder looks perfect and works well for a lot of customers.
The heating process is fast and efficient. It delivers what it promises such as no hair snags and no damage or pull. Instead, it glides through the hair smoothly. Generally, the iron stays hot during the whole process of straightening. It works on all types of hair: thin or thick, short or long, curly or wavy, natural or colored etc.
There was an incident reported when the iron was made to work on a long, thick, extremely bushy, coarse hair and successfully gave best results with very straight, flat and shiny locks.
Additionally, curls and flips can be managed with expert use of the iron. The ironed hair results can last for as long as four days.
The tool itself has easy manoeuvring and easy controls. There are no major complaints on the grip even though some of the clients do use the larger plate type (one and three-fourths). You may want to wear a pair of cotton gloves because it can get really hot and you can get your hands burned.
And the good news is that it has the automatic shut-off feature after sixty minutes. How's that for peace of mind!
When it comes to durability, it can work efficiently from 6 months to 4+ years depending on the use. Besides, there is a five-year warranty which may interest you.
Purchase this on Amazon and you will only need to spend around $35 with free shipment in the States. It is definitely a great value for your money. It has been compared to other products such as CHI and Remington, and most of the customers have kept their loyalties to Infiniti Pro.
Downsides
There's not a lot to say about the downsides. The whole piece works perfectly well. Some people find the gaps between the plates too wide, but other customers have worked around this unintended feature and have done well. Also, the product does not indicate the actual temperature.
It is mentioned that the highest temperature is 455 degree Fahrenheit but is has been programmed for 30 different temperature settings. So the best thing you can do is read the manual first to confirm which dial has the highest temperature.
Furthermore, there is no locking mechanism which is not a big deal since you can easily use an alternative to keep the whole thing together while not in use.
There are some defects reported like the iron did not stay hot or stopped being effective after 30 days. One customer reported temperature setting fluctuating at some point which may be due to the automatic controls that are programmed to adapt to the hair conditions. But this can be remedied with manual adjustment on the controls, so it's not a big deal.
Unfortunately, this hair iron does not come with accessories other than the Argan Oil. You need to buy them separately.
Verdict
The Infiniti Pro flat iron is a great buy; tried and tested for professional use at half the price. Try it to believe it!