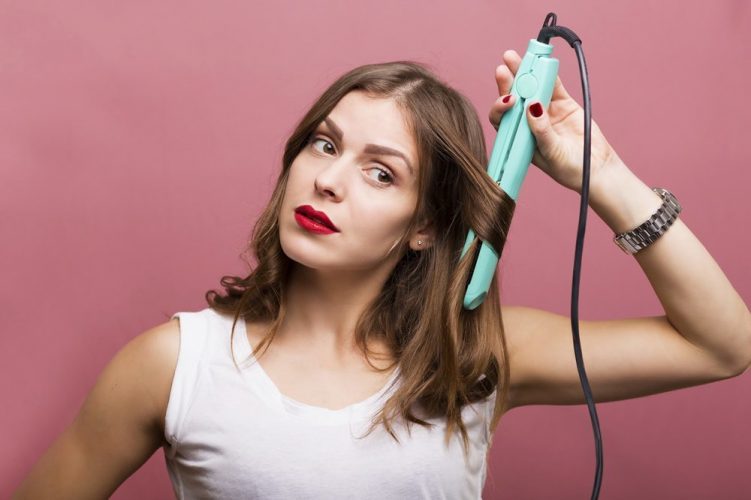 This is not on the top of the list for hair-straightening irons for nothing. Almost all 29,000+ reviews have outstanding customer feedback and for a reason. It's versatile enough and wide enough to cover all types of hair. It has many controls for temperature and adaptable options for cross-country use.
Features
Best for fine to coarse hair for straightening, flipping and curling.
Tourmaline crystal ion plates with one-inch ceramic material.
Micro sensors that help to prevent damaging your hair.
Swivel cord that allows 360 degree turn.
Bonus Argan Oil leave-in Hair Treatment, gloves and travel pouch.
Temperature range 240 to 400 degree Fahrenheit (120 to 200 Celsius).
Plate width of one inch (especially for bangs and curly hair types).
With universal dual voltage capabilities 110 to 220 volts.
Upsides
This is a user-friendly hair straightener and a lot of the customers report that it glides easily and quickly on hair without the usual snags, unnecessary repeats and burnt hair. A happy customer remarked how her hair looked professionally treated like it was done in a salon and that now she had the right tool to do the whole process conveniently at home at a lesser price.
Because it is used for all three hair treatments (straightening, flipping, and curling), it can save you a lot of money. This also saves you the efforts of using three separate irons. The iron heats up quickly and remains hot for a long time so you don't have to reheat it before doing another batch of hair.
Even thick hair turns soft in a little under thirty minutes. If you have a problem with too straight or too delicate hair, you can use this product for curling and flipping.
One customer quips how only this product manages it when others fail to do it. You can do all this without the smell of burnt hair.
This iron is durable and works as efficiently as new even after being used thrice a week for one and a half years.
As for the parts, you have a handy swivel cord that does not get tangled during the process. The plate width is more than enough to efficiently iron out fringes, bangs and large portions of hair without getting caught in and painfully pulled out.
The potential for using this anywhere abroad is great as the appliance allows you to put the plug into any outlet anywhere without needing to check for voltage requirements.
A lot of customers were asked to compare this brand with another more expensive brand called CHI and they remark that the HSI works better and is definitely more affordable.
If you have any problems with the product, there is a one-month return policy and one year warranty. Conditions apply for possible reimbursement though.
Downsides
Like the other products in the market, there are sometimes factory defects. The most important cases are of durability when the product seemed to stop working altogether after a year. The most extreme case is of a customer who complained about having problems with achieving the desired heating after only one week of use.
One common complaint is that the hair treated by this iron does not stay straight after one day. Some people seem to bother about it, while others are okay with this.
Some of the customers disagree about the benefits of Argan oil. Other customers suggest the option for automatic shut-off when the device is idle in order to prevent any accidents. Both of these may be the issues of personal preference rather than a valid cause for concern.
Besides, you may be interested to know that one customer remarked how she liked the older versions of this product in terms of how hot it could get and how long the heat was sustained throughout the whole procedure.
You may also want to consider reading the product manual first which can be found online. Although replacements are free, there are certain conditions in which you have to pay extra for the shipping and repairs. Total refunds are also not possible. You might want to buy a new hair iron instead of paying for the repairs.
Verdict
If you want an affordable hair iron that gives you immediate, but not long-lasting, effects and works fine on all hair types without the burning hair smell and frizziness, then get the HSI Professional Digital Flat Iron, you won't regret it!